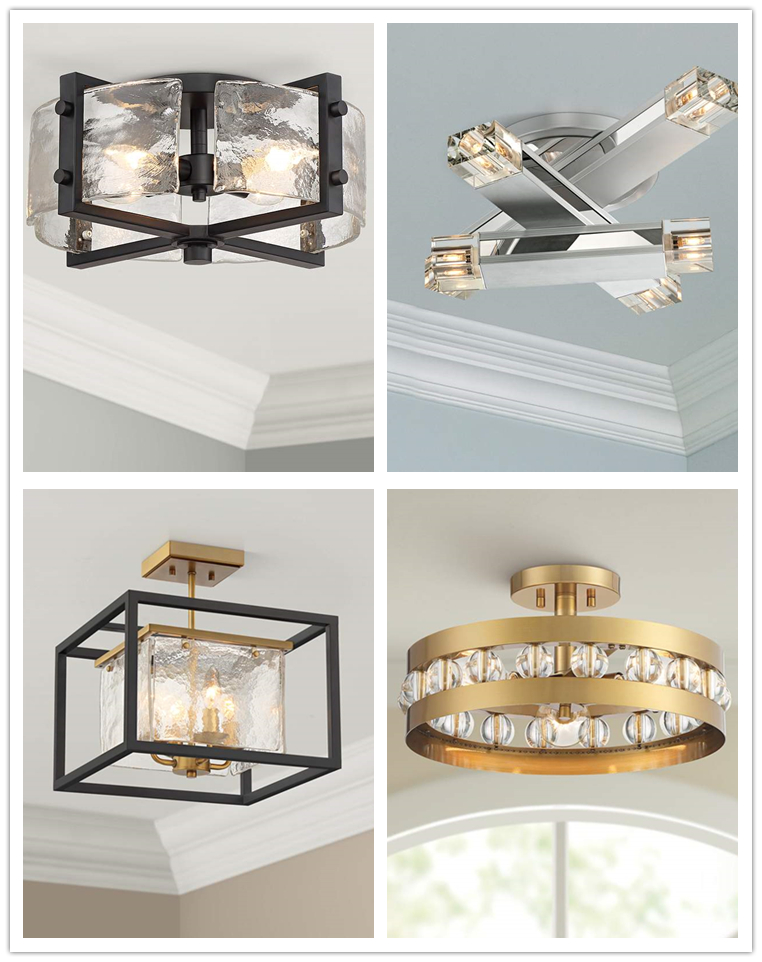 9 Lamps That Are Close To The Ceiling
Practically, near ceiling lights are essential as they can light up an entire room from its highest point. People often use them for low-ceiling applications because of their minimum or missing shade-to-ceiling distance.
If you're shopping for near ceiling lights, there are many great products available out there. But if you need recommendations, below are the best options you can choose from.
1. Possini Euro Adri 16 1/2" Wide Black and Glass Rustic Ceiling Light
Make your interior more charming and stylish with this 4-light near ceiling fixture. Its patterned glass panels and black metal frame give it the elegance it needs to beautify your home. With four candelabra bulbs, the Possini Euro Adri offers a warm and welcoming glow when it's turned on.
2. Possini Euro 19 3/4" Wide Stacked Rods Modern Ceiling Light Fixture
To give your home a modern feel, all you need might just be a ceiling light like this one, which looks unique and artistic. It comes with 6-light three stacked rods made of aluminum and finished in gray. The fixture is even more eye-catching with its clear crystal diffusers that reflect the light off mirrored accents.
3. Possini Euro Liston 14"W Iced Black and Brass Ceiling Light
The Possini Euro Liston is a semi-flush ceiling light boasting cool ice glass and a square open framing. These features allow the lamp to easily modernize any room it's added to. Ice glass surrounds four bulbs on the sides, resulting in softly diffused light that provides a friendly touch to a room.
4. Stiffel Artyom 17 1/2" Wide Warm Gold 3-Light Ceiling Light
This ceiling light is finished in gold and has crystal accents to make it look sparkling and exclusive. It can brighten your living space in a beautiful way thanks to its round ring design showcasing K9 crystal ball accents. If that's not enough, the frame and canopy also add to the light's luxurious feel. Its stunning design is the reason the Stiffel Artyom is a great choice for any home.
5. Salima 16" Wide Nickel and Gray Wood 3-Light Ring Ceiling Light
Do you want to create a modern rustic interior? You will absolutely love this product then. The Salima is designed to help you do that with ease. This semi-flush mount ceiling light features a weathered wood gray finish that outlines a brushed nickel finish openwork round frame design. The fixture will naturally blend into any rustic space.
6. Possini Euro Milne 14" Wide Bronze and Brass Ceiling Light
The Possini Euro Milne is suitable for those who are looking for a beautiful display of crystal with bronze and brass framing. Add this alluring near ceiling lights to your room and you will instantly enhance its look. There's an open cylindrical frame finished in bronze that surrounds the brass finish inner cylindrical frame, in addition to the crystal accents that completes the luxurious design.
7. Possini Euro Prane 17" Wide Brushed Nickel Ceiling Light
Use this product from Possini Euro Design to give your room the brightness it deserves. The round flush mount ceiling light features a metal frame with a brushed nickel finish and an open glass shade crafted of warped panels. The light fixture is an excellent decor for bedrooms, family rooms, living rooms, and more.
8. Casa Seville 12" Wide Walnut Indoor-Outdoor Ceiling Light
The Casa Seville can improve your decor with a fine-looking Mediterranean touch. Your interior will feel more Spanish with this ceiling light. Coming with an attractive indoor-outdoor design, this light serves as a brilliant accent piece that gives any guest a warm invitation in.
9. Cassington 11 3/4" Wide Glass Square 2-Light Ceiling Light
Remodeling your living room doesn't have to be difficult, especially if you own this elegant modern ceiling light. The Cassington is a nice square flush mount light fixture suitable for a transitional or contemporary setting. Its shade is crafted of warped hand-blown glasses on each side. The bottom part is open to show you the light bulbs used within. With a washed black finish covering its canopy, the light fixture clearly looks sophisticated.